Nastasia Lobachevskaya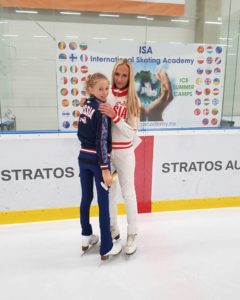 NASTASIA LOBACHEVSKAYA
(Сoach)
She started figure skating at the age of 3.5.
She took her first steps on ice at the USK Prague figure skating club.
From the age of 5 she continued training at the school of Olympic reserves in Moscow under the guidance of Viktor Kudryavtsev.
My coaches were also outstanding teachers such as Natalia Dubinskaya, Eduard Samokhin, Marina Kudryavtseva.
She continued her figure skating career in the Czech Republic.
She performed at international competitions and the Grand Prix for the Czech Republic.
She was a member of the Czech national team.
I have been coaching at the ISA Academy since 2017.
I strive to teach my young skaters as much as possible: the correct technique of jumps, increase the level of sliding and complex rotations on ice.
Charismatic figure skater of the international racing champion for the Czech Republic, one of the best in the Czech figure skating championship, which will teach your children the perfect sliding, pirouette and make a beautiful choreography of racing programs. He regularly participates in international ice shows. Figure skating has been taking place since 3 years. Wrestler of all the world-famous figure skating trainers of Russia: Mishin, Kudriavcev, Pashkevich. Under the leadership of A. Gorshko, she trained ice dancing.