Kate Rozova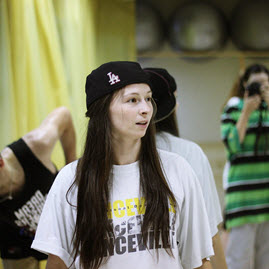 Kate Rozova
(Art director and choreographer)
Ekaterina Rozova is a participant, art director and choreographer of the famous MAD2Jay from Ekaterinburg (2008–2016). Its core team became the semifinalist of the "Dance!" Show on MuzTV in Moscow in 2012. The team is a two-time winner of the Regional Championship "Street Dancing" (Tyumen 2009 and 2010), two-time champion of the All-Russian festival of Hip-hop culture "Energy" (Chelyabinsk 2008 and 2009), as well as the finalist of Hip-hop International Battle (Moscow in 2010).
In solo performances, Catherine is a multiple winner in Hip-Hop battles:
Miss Hip-hop (Ekaterinburg 2008),
1st place in Hip-hop 1×1 "Nirvana" (Ekaterinburg 2009),
3rd place Hip-hop 2×2 "M.I.R." (Ekaterinburg 2009),
1st place in Hip-hop battles 1×1 "Dancing streets" (Tyumen 2010),
1 place "Hot peppers" Hip-hop 1×1 (Bratislava 2010),
2 place Hip-hop 1×1 "Battle of Controls" (Ekaterinburg 2010),
1st place Hip-hop 2×2 "Maxi jam" (Ekaterinburg 2011),
1st place B-girl 1×1 "Olympic Battle" (Ekaterinburg 2011).
Catherine is the director and choreographer of many performances and shows:
the show "Dancing for Christmas" (Ekaterinburg 2018),
the musical "Real Graduation" prod. Sergey Ershov (Yekaterinburg, 2013-2014),
dance performances "3 phase" and "Road to home" (Yekaterinburg 2014-2015),
Concert group CHAIF "Winter Acoustics" (Ekaterinburg and Moscow 2014).
From 2018 – teacher in the studio "SEN" in the direction of Street Dance (Hip-Hop, Break-dance, House, Popping, Locking, Experimental).