Iurij Peshkilev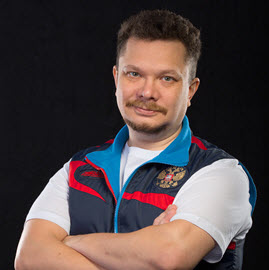 Iurij Peshkilev
(Couch off ice, Russia)
Position in a team – Couch for special physical training (TFP).
Since 2015 – the creator of the original rotation machines for training the vestibular apparatus and the original system of training rotation and the development of speed groups.
With the help of its new technology, it will learn your children to properly group on the ice and perform complex multi-turn jumps.
And also will reveal the secrets of how to develop speed and keep difficult positions in the piruets.
He works in figure skating schools in Russia, Latvia, as well as in summer camps of the Florentine Amodio Academy in France and with famous trainers N.Morozov and B.Juber.
AUTHOR OF GREAT CHOREOGRAPHY
TRIPPLE AND QUADRUPLE JUMPS FROM THE STEP PASSAGES
EXCELLENT EXPRESSION AND CHARISMATIC PROGRAMS